The Spitfire Coffee Table
We have set out to create a piece of furniture which is not only functional but also capable of starting a conversation, stirring a memory or firing your imagination. This coffee table celebrates the Spitfire, an iconic aircraft renown for it physical beauty and prowess.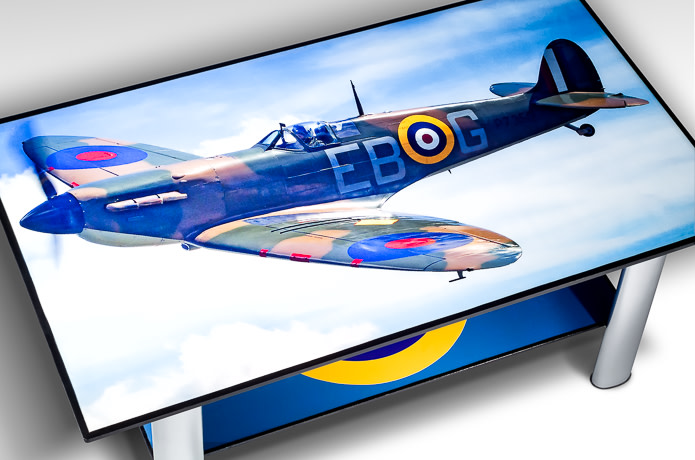 Product description
This table has been designed to include materials used in the construction of the Spitfire and reflect a number of its distinctive features.
The legs of the table are made from stainless steel and oval shaped to mirror the elliptical wings of the aircraft.
The table top (1100mm x 600mm) and shelf (850mm x 450mm) are made using a combination of aluminium and toughened glass.
Aluminium has been used for its strength and durability. It is also a nod to the metal used for the outer skin of the Spitfire.
The toughened glass has anti-glare properties. This is a great feature as the table top carries a stunning high-resolution photograph of the Spitfire and the table shelf is adorned with a vivid and striking roundel. Through the glass the images are incredibly sharp and intense.
We wanted to make a table which does not compromise on the quality of design, materials and images. The Spitfire coffee table delivers across all of these.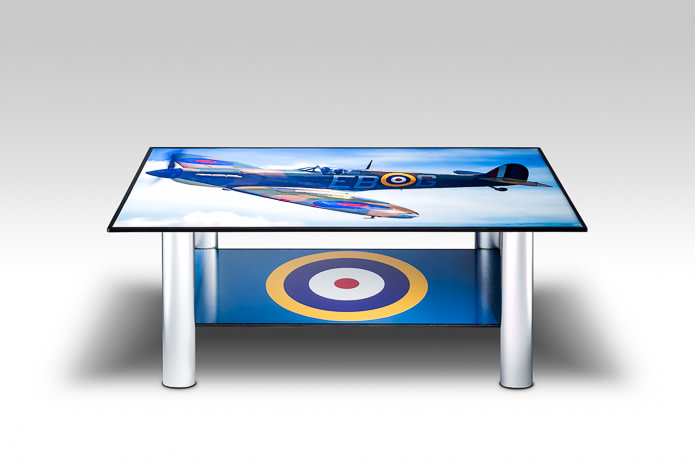 Our offer
GET OVER 1/3 OFF RRP
The full retail price of this table is £195. We are offering our backers a significant savings in order to help us bring this product to market.
We are seeking to raise £25,000. In addition to purchasing a Spitfire coffee table you can support this campaign by buying an iconic roundel poster and of course, by getting the word out and making some noise.
This table will only be brought to market if we get 200 backers. Purchase this unique, limited edition coffee table and help support this unique furniture emporium.