Hi, my name is Emily Cheng. I'm a visual designer studying in London. This project originated as a school assignment. Now it's time to take it to the next level. 
---
About the Project
Scars are often associated with memories and stories, whether it's sadness, anger, regrets or even joy and pride. However, there seems to be a kind of scars that are rarely talked about, or somehow 'avoided'. Through this project, we wanted to bring attention to mom's c-section scars, not only because they are a representation of one's life milestone change but also somewhat still controversial in society, whether it's socially, culturally, or economically.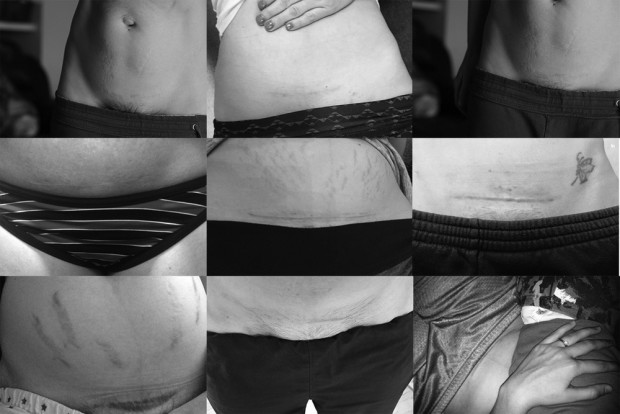 Why Care?
Over 100,000 babies were born from emergency cesarean in UK in 2015.
Women having an emergency cesarean has more than 6 times the risk of developing PTSD (Post-traumatic Stress Disorder).
The lack of awareness and provision of help is an underestimated issue; even for those with access to professionals, the wait may take up to 6 months or more.
Mission
The aim of this project is to transform the relationship of moms' perception towards their unplanned cesarean scars into a memory of love and raising awareness of the overlooked issues currently. By creating a platform for conversation and care, mothers can support one another. Every birth is an unique experience. However, one common thing that moms share is the love to their child. You may not believe it, but the stories you share may possibly be encouraging and supportive for other moms on the other side of the world.
What's Next
April is Cesarean Awareness Month. With your support, we believe that positive changes can begin at small community level. Together, we can create a supportive group for the moms and moms-to-be. Please join us in showing our love and support to the brave and dedicated mothers out there. The donation will go to Postpartum Progress, which is the one of the world's largest platforms, dedicated to maternal mental illness by raising awareness and supports for recovery. No profits are taken. All proceeds go to charity.
"I'm not defined by my scars but I am defined by the incredible ability heal." 

– Lemn Sissay
Greatly appreciate any support you are able to provide.
In the meantime, please follow us on Facebook for latest updates: https://www.facebook.com/thescaroflove/
Scar of Love website will be coming soon.
---