About this project
RefCircle – A Job Network. Idea is to create a connected world of employees from different organizations and different part of the world. Many times, we ask our friends about the job in their organization. We hardly get to know about the opportunities in our friends circle. Studies and various researches show that internal job referrals increase the possibility of landing a job by 10 times. At the same time employees struggle to find a profile or friend to refer them because they may not be aware if someone is looking for a change or not. This is the idea behind RefCircle to provide a platform for genuine job referrals through the job networking. Here job seekers can browse through the available jobs for referral and get the referrals. Referrer gets the referral bonus so it makes RefCircle a win-win for everyone.
These days we have experienced how challenging job market has become. It makes difficult for us to find a suitable job in difficult time so RefCircle can help us connect with someone far away or next door and you can extend help to someone in need of job or for someone looking for change.
Our logo resembles our RefCircle principle of a big circle of peoples around the world. It is our dream to make a family of employees with different backgrounds.
Services in RefCircle
1. Find a Job to get the referral
2. Post a Job to get profiles
We have launched RefCircle web application with India and USA as available locations and we are looking to expand it across globe so that we can connect everyone from all over the world.
HOW IT WORKS
Sign up is very easy. Just sign up with your email ID, password and a unique user name. (We have plan to integrate login or sign up options with Facebook, google and twitter)
Then you can maintain a profile with your resume if you are looking for a job if not then you can skip resume and help someone.
RefCIrcle provides features as below.
If you are a job seeker
You can search for a job with keywords, skills or location and ask for refer me. Job referrer will receive an email that you have requested for referral.
If you are a referrer
If you see a position available in your organization and if you need profiles to refer for that position then post a job with all the details.
Then wait for someone to request for referral.
Once you receive a 'Refer Me' request then download resume from jobs dashboard. You can check profile or talk to requestor (if you want to) to ensure that profile matches with the job role. If profile matches then refer him and mark as referred in jobs dashboard so that requestor will be intimated through email about successful referral. Now wait for the hiring process to get over and you have a chance to earn referral bonus as per your organization's policy.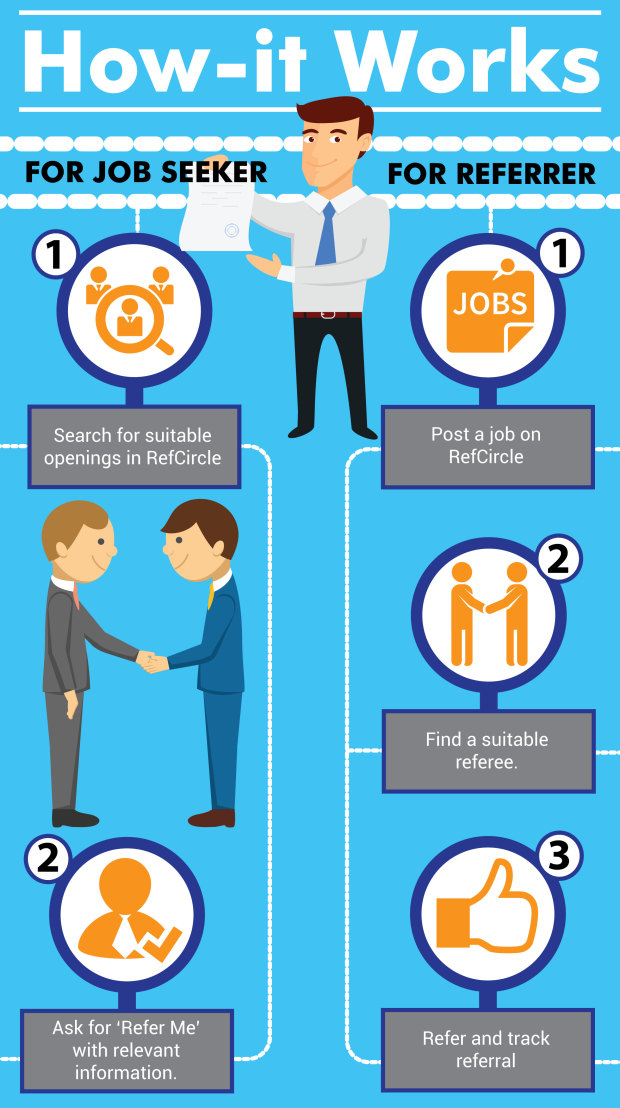 Goal
Our goal is to create a big circle of employees from different backgrounds to help each other. We have made initial investments and developed web application www.RefCircle.com on cloud (AWS) to provide better performance, availability, scalability and security of our application.
Now we are looking to build more features and to build mobile applications on iOS, and Android platforms as well. We will need funding of approx. $25000 to manage costs, the server fees (AWS), development of mobile apps, enhancement of features e.g. expand to other countries, social and online advertisements to increase awareness about RefCircle, real time chat or conversation, featured jobs, premium jobs.
Please help us today to help you in future
You can help us by donating or by spreading the word via social media! Follow us on Facebook share our story on your own platform, blog or other social media sites to help make the RefCircle campaign a success.
Join us today to build a connected world of employees!
Job network can help to get a genuine job through the referral.
Risks and challenges
Our team has already built MVP with basic features. Now team is working hard to make sure that we keep on improving no matter how much funding we receive, we will continue to work with our users. We have built application so that we can show what we are planning to achieve and your support to RefCircle campaign will help us reach our target quickly.
With your help, we will complete the website and mobile app as we envision for the future of www.RefCircle.com.
Thank you for all the support! We are excited to take the next step with you.
---