Hey there! My name's Lloyd David and I've been doing freelance graphic & web design for startup and non-profit organisations for over 2 years. It's been tough, but I'm doing what I LOVE, UX/UI design. However after some research and being on many design related social media, such as Behance & Dribbble, I believe I needed to study again, this time UX design at General Assembly from the 1st of August to 7th of October 2016, full-time Mon-Fri on campus in a class room, so i'll need the funds before the course starts on 1st August 2016.
I also want to create jobs whilst I'm studying, so maybe some students will join my tech start-up, Lloyds Themes, after we all graduate.
What is Lloyds Themes?
Lloyds Themes, is a start-up I'm working on to design & sell online software mainly for the e-commerce(JD sports, Zara type websites for people or small businesses who want to start an online store for their businesses), and the huge WordPress/blog theme markets(people who blog for a living or even yourself), over 50 million users!
My online profiles:Behance - https://www.behance.net/lloyddavid
Dribbble - I'll add work soon, and during study, I just became a player so I can now post my designs :) - https://dribbble.com/lloydsthemes
LinkedIn - https://uk.linkedin.com/in/lloyd-david-b280a428The following explains my journey so far and questions you may be asking.
Why UX design?
Because I've enjoyed designing websites & interfaces more than logos & branding (flyers, business cards and so on), in the last 2 years. I've found this more fulfilling, watching peoples designs come to life and how happy it makes them.Also with UX design it leads me to the world of mobile apps, which isn't only video games but maybe something life changing and positive can be made into an app, like many other apps out there, like a health app for example, creativity has no bounds :)
What happens next?
I had an assessment, and needed to design an app from scratch, was hard but still was able to complete the tasks.I passed and now I'm enrolled on the course as shown in the image below,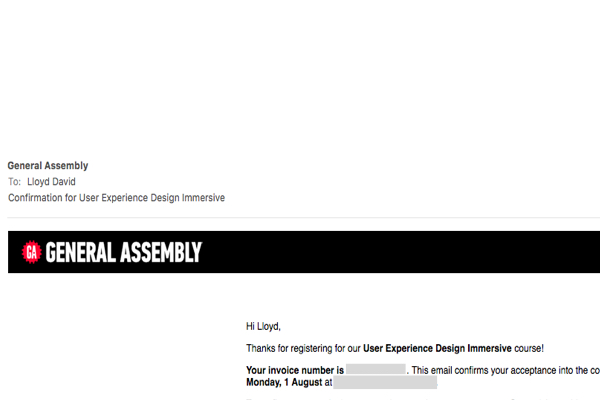 But I don't have the rest of the money for the course fees. Even instalments are way outside my freelance budget, so your help is very much appreciated.
Can you complete this course?
I believe I'm well able to complete this course, I have the design experience & already use, own the software they're teaching with. Non-designers from other industries have also completed this course and found jobs.
The following are the course, business & equipment fees.
1. Course fees, £7,500, I've paid a deposit, raised £100 elsewhere, so it's now £7,150, but don't have the rest to pay.
2. I'll need a Apple MacBook pro laptop computer for class and work - £2,549 . This will help me finish my designs quicker.
3. Design & development for Shopify e-commerce project - £10,500
What happens after you complete this course?
I should be able to know within the three months of studying wether or not I can hire staff or look for work to fund the business to then hire staff later, so I'm not giving up  :)
Your support gives me more opportunities...
Thanks in advance,Lloyd David
UX Design student @ General Assembly & Web designer @ Lloyds Themes
---