Summary
Friends of Hanley Park are looking to raise £1000 to help put on Stoke-On-Trent's first ever Fire Garden on 15-16 November 2014. Over the two nights, we have capacity for up to 4000 people to attend and the event will be free!
About Friends of Hanley Park
Friends of Hanley Park is a group of volunteers who are passionate about making the park a great place to spend time. We formed just over two years ago and have been working hard to put on events in the park for people to enjoy. We've also been working hard on supporting the upcoming Heritage Lottery bid which, if successful, would lead to a multi-million pound restoration.
It's a beautiful park and people from across the city have fond memories of spending time there, but unfortunately in recent years some of its spaces have become in dilapidated and the park's reputation has suffered.
The volunteers are mostly people who live or work near the park. We also work closely with nearby groups and organisations (such as the college, Staffordshire University, the Children's Centres, the churches and mosques) many of whom have been working hard behind the scenes to change how people see and use the park.
What's our idea?
We've been working with Appetite and Walk the Plank to plan a magical fire garden right in the heart of Hanley park.
We wanted something completely different which would celebrate the coming of winter and provide an alternative bonfire night experience for local communities. 
Walk the Plank's Fire Garden involves spectacular fiery sculptures, live music and walkabout entertainment, and has toured all around the UK. Their team have already done a site visit and are designing a version specifically for Hanley Park. 
We're really excited to have this internationally-renowned event in the city! 
Why are we Crowdfunding?
So far, with the support of Appetite and local businesses such as Thomas Vale, we have raised nearly 80% of the budget needed to create a truly spectacular event. The £1000 will enable us to pay for FlameOz - a thrilling group of fire performers who will really bring the experience to life (pictured below). Take a look at this YouTube video to see how it might all look!
It will also pay for some additional infrastructure costs (such as fencing and security) which will enable us to open the event up to more people.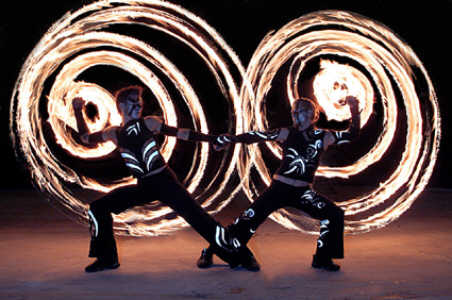 Our Rewards
As the event is now sold out
FROM November 4th ANY PLEDGE OF £5 or over will also be sent a code for 2 tickets for the event once the campaign is complete on November 11th 2014 (the code will enable you to book the time slot of your choice).
Any pledge of over £15 will be sent 4 codes.
For those who pledged before 4th November, you'll be contacted via email to establish whether you booked separately or not.
Sorry for any confusion caused!
For £5 you can choose from either a hand-made flower broach OR a one-to-one basic dog-training session (focussed on basic obedience such as consistently responding to their name).  Each session lasts up to half an hour and can be booked on either a Monday or Tuesday afternoon (12noon-3pm).  The sessions will be held at Hanley Park. 
Rug-making workshop
You can either book an individual place on a 2 hour workshop where you will cover the basic techniques and make a small sampler to take home for £10 OR for £50 book a workshop for a whole group and either work together to create a bigger piece such as a wall hanging or mat or make individual pieces.  
Walk the Plank Tote Bag
Walk the Plank, creators of the Fire Garden, have given us a limited number of these tote bags to give away!
A Narrowboat Trip
A return narrowboat trip from Etruria Industrial Museum to Middleport Pottery including tea and cake at Burleigh Pottery on 'Lindsey', pictured below. The round trip lasts about 1 hour 15 minutes (but with a stop off for tea, 2 hours).
A family ticket and tour of Etruria Industrial Museum
Etruria Industrial Museum is the last steam-powered potters' mill in Britain. The mill is 'in steam' several times a year when the 1903 boiler is fired and historic machinery can be seen working. Situated in a pleasant location at the junction of the Trent & Mersey, and Caldon Canals the museum is also a perfect stop-off for walkers, cyclists and boater.  Tickets can be used anytime to the end of 2015, the next steaming weekend is the 6th and 7th December 2014 11am-4pm.  
A framed photograph of yourself / group with one of the fire sculptures
Photographs will be taken on the night of the event you attend, they will be printed and framed on the night for collection at the end of the evening!
The photographs will be the standard 6" x 4" size 
FAQs
When will I get my reward?
We will be contacting all pledgers once the campaign is over (11th November 2014) to arrange how you'd prefer to receive your reward.
If you are attending the fire garden event you will be able to pick up your reward (bag, broach, museum tickets, photograph) on the night, these will be available from near the entrance to the fire garden in the centre of the park.  Otherwise you'll be asked to provide a postal address for the reward to be sent out to you.
If you have booked a dog training session/ place on a rag rug making workshop/ narrowboat trip the leaders of these rewards will be in touch with you to confirm dates/ times you'd like to attend.
Other queries
If you have any other questions about the event or rewards please get in touch with Rebecca, by telephone 07557797695 or email: rebecca@appetitestoke.co.uk
Appetite is led by the New Vic Theatre in partnership with B Arts, Brighter Futures, Partners in Creative Learning and Staffordshire University.Appetite is a Creative People and Places programme funded by Arts Council England. Appetite is led by the New Vic Theatre in partnership with B Arts, Brighter Futures, Partners in Creative Learning and Staffordshire University.
---