We're raising funds for ground improvements, so that we can move up to the next league within the Football Association pyramid - join us and help to make it happen!
The Road to Promotion...
We at Buckland Athletic FC have always been striving and have decided to apply for promotion to the next league -  but in order to qualify for this promotion, we need to upgrade the football ground. We have spoken to suppliers and costed out the work to be completed - £4,000 is what we're hoping to raise towards making this a reality.
Just some of the requirements include:
* New perimiter fence* Two turnstiles* New toilet block* Some covered standing area
Here at the club we have just raised some funding for a major drainage project costing in the region of £32,000. Now that this has been installed, the next stage is for us to take care of these other outstanding ground issues. We're most of the way there, so we just need everyone to pull together to make this happen and get us to the next league!
The Club Community
The club has grown since starting as a junior side in 1977 and now has three senior mens teams, one senior ladies, eight junior teams plus a new under 11's girls team. We are very much a club on the move!
Buckland Athletic is a very family and community orintated football club, that not just provides a safe and secure envioroment for adults and children to enjoy the sport, but also has fortnightly bingo, a weekly flower club and also has regular chairty events held at the venue free of charge. The club is run by volunteers who give hours and hours of thier free time to help make the club the sucess that it is today.
We moved to our new ground Homers Heath 12 years ago - after that the clubhouse and pitch took took two years to build and prepare. This mammoth task was undertaken by the clubs players, supporters and friends in voluntary hours, including evenings and weekends, something that the club is immensely proud of. Not a club that stands still, we have since installed floodlights and a grandstand, with some help from donations but the majority again, self funded and built within the voluntary basis of the club itself. 
** For details of how to become either a playing or non-playing member of Buckland Athletic FC please contact the Clubhouse on 01626 361020 **
Opening night of the Grandstand and floodlights, another project we did with some funding and fund raising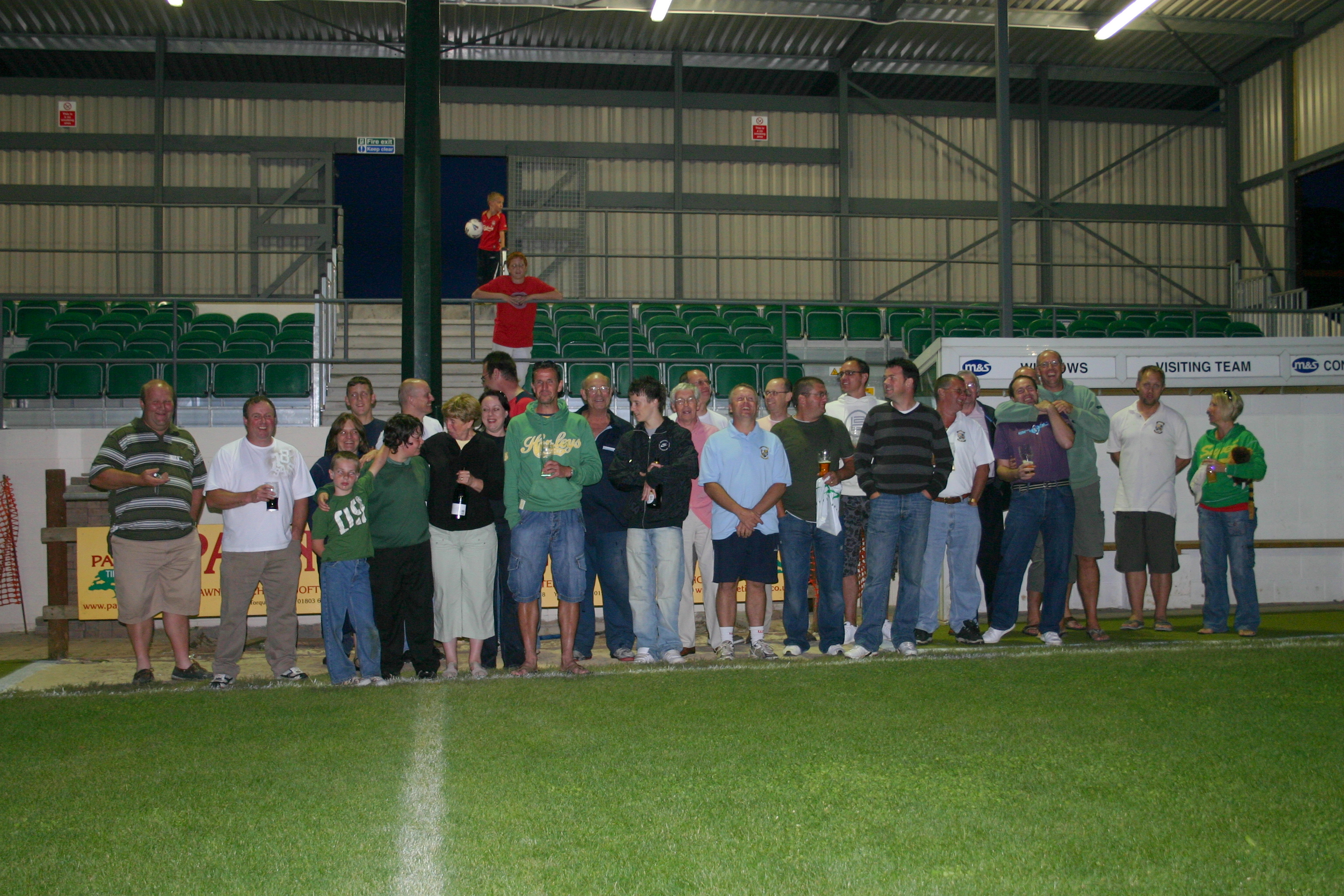 The History of Buckland Athletic FC 
The club was formed in 1977, and it was purely a junior club. It started life in the Torbay Pioneer League and Sandringham Road was our home pitch. During this time it was one of the biggest junior clubs in the area, and it won many titles and cups over its early years, including the Devon Youth Cup.
It's a senior club now…….Devon & Exeter League
The first big decision the club made was to take a team into senior football, which happened for the start of the 1987-88, and saw us take a place in the Devon & Exeter League, and were placed in Senior Division Three, playing at Coach Road.
We moved grounds once more in the 1990-91 season to Decoy Park, and again moved, this time to Homers Lane, Kingsteignton.
Next step….The Devon League
2000-01 was our first season in the Devon league,  We spent seven seasons in the Devon League,  In the final ever season of the Devon league (2006-07), we did just enough to gain promotion to the newly formed South West Peninsula League.
The South West Peninsula League….
We started life in this newly formed league (which incorporated teams from the South Western League and Devon League's) in the 2007-08 season. Then in the 2011-12 season, we applied to the Western league, knowing that a top two finish was needed to take promotion, well it was achieved and promotion was won. We did become the lowest ranked side to win the Devon St Lukes Bowl in the 2010-11 season, and we retained after beating Tiverton Town in both final wins.
Pastures new….The Western League Premier Division
From the 2012-13 season, we have been playing football in the Western League Premier Division (Step 5 in the non-league pyramid), which is a great achievement for the club, which is still relatively young in age. Last season was another great season in the history of this great club when the 1st team finished in runners-up spot in the Western League Premier Division, the highest finish in the clubs history in the non-league pyramid. We also won the Premier Division best programme award for the third consecutive season, making it eight consecutive league wins in the last eight seasons.
A new venture for our Progressive club….
We are now starting our first ever Ladies Team, managed by 1st team goalkeeper Grant Fisher, this is another first for club, and the team will be playing they home games at Homers heath.
Grounds…..
In 2003 when we were given the option by WBB to take on South Quarry, a green field site, on the Torquay side of Newton Abbot, and after a lot of hard work and sweat by a huge number of volunteers, we started life at the newly named Homers Heath for the start of the 2005-06 season, with work on the ground and fabulous clubhouse on-going every season since then. It has now been decided that we would try to get the ground up to Southern League standard for the 2015-16 season with a view of hopefully finishing in a promotion place.
Finally…
The club continues to thrive both on and off the field of the play and this is due to the hard working ethics of all the volunteers within the club, who give up lots of thier time for nothing to help our club run smoothly.
Recent Honours 
Toolstation Western League Premier Division Runners-Up 2014-15
SWPL Premier Division Champions 2009-10, 2010-11
SWPL Premier Division Runners-Up 2011-12
Devon St Lukes Bowl Winners 2010-11, 2011-12
SWPL Charity Bowl Winners 2010, 2011
Devon League Runners-up 2000-01
Throgmorton Cup Winners 2009-10                                
Throgmorton Cup Runners-up 2001-02, 2011-12
Devon League Sportsmanship Cup 2000-01
Programme Award Winners 2000-01, 2002-03, 2004-05, 2005-06
2007-08, 2008-09, 2009-10, 2010-11, 2011-12, 2012-13, 2013-14, 2014-15
Join us!
"Buckland Athletic, is not just a football club, it's an extended family" Chairman Roy Holmes
"The Football Association should come to Homers Heath and see what really can be achieved from a small club like this, with hard work and a great group of volunteers" Chris Davey, Devon FA
"Its been a pleasure to help and sponsor Buckland Athletic FC for the last 13 years, a credit to the area, to which they should be very proud" Martin Smith, Firewatch Group.
"They're a brilliant club, they are fantastic people, really kind and have been absolutley superb in their genorosity towards us" Jez George, Cheif Executive Cambridge United FC  after using Homers Heath to train, One week after playing Manchester Utd in the FA Cup
Please tell your family, friends, colleagues and business contacts about our crowdfunding project. We need everyone to pitch in and support so that we can keep football at the heart of the local community in the future!
Thank you from everyone at Buckland Athletic FC!
#DevonFootball
---