Our Aims:
•To educate all our girls and inspire them to have a stronger attitude to their opportunities in education
•To realise how much potential we have as young women together and as individuals
•To have a voice in issues in which other girls have become voiceless
What do we want?
• To hold a screening of the film for International Women's Day 2018
•To purchase a license for this is £281.41 (approximate conversion from US dollars)
•To use the screening to invite all students, parents and the local community to attend to raise awareness of the issues
•To ask for donations at the screening to help fund the work of Girl Rising
What is Girl Rising?
Girl Rising was initially a film, but is now a campaign based around bringing awareness of how vital education is to girls around the world and how it can end a cycle of poverty.
Girl rising is a global campaign for girl empowerment and education. They aim to raise the common issues that girls face daily, in countries around the world. They believe that educated girls stand up for their rights, marry and have children later, educate their own children, and their families and communities thrive. Furthermore, everyone should have this right to education.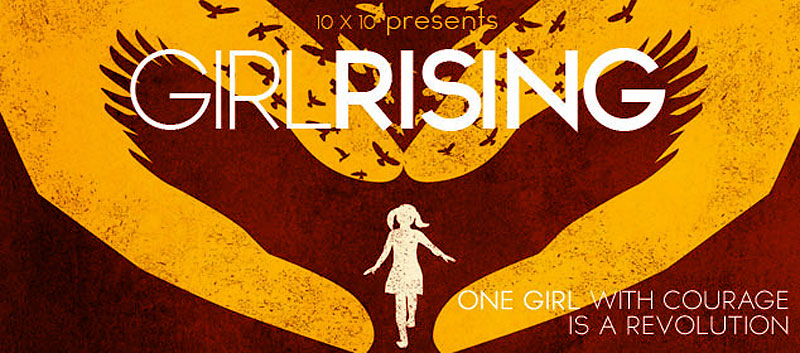 What impact will this film have?
Watch the video to see how Girl Rising has inspired other communities.
Why the issue of girls' education?
It is easy to notice only our own place in the world – what's right in front of us, and around us, and has been since the second we were conscious beings. When we are babies, our limited view of the world focuses on the people in our immediate family. Soon we notice our home, our neighbourhood, our town. As we grow, we begin to see a wider picture of the world and the people with whom we share it. After all, there are more than 7 billion other people on earth.

What happens to all those other people affects what happens to us, whether we know it, or choose to pay attention. Money, war, natural disasters, literacy, education – these are all factors that have wide-sweeping influences that connect us to each other, whether we live in small towns such as Harborne and Bearwood, or a village in Sierra Leone, or a city in Thailand. What happes to our fellow citizens on earth shapes all of us.

This may sound simple, but it's an important place to start when we think about the ways in which the world could change to make it a more balanced, more humane, more functional place. When it comes to education, one fact affects us all: world wide, over 62 million girls are not in school. Why is this, and why is it important?
What if you could not go to school?
We'd like you think about how would your life be different if you could not go to school?
How would not being educated damage your life chances?
Would you be able to have the career you wanted?
Would you be able to support your family?
Would you be able to afford a home, or even to eat every day?
What if you never even learned to read, write, or count? What would your life be like?
This is the reality that girls face all over the world when they are prevented from accessing education.
What if all girls were educated?
•Educated women are less likely to die in childbirth
•Educating girls can save millions of lives
•Mothers' education improves child nutrition
•Girls with higher levels of education are less likely to have children at an early age
•Girls with higher levels of education are less likely to get married at an early age
•Education narrows pay gaps between men and women
•Educated women are more likely to find work
---