About Me
I am a final year student from the University of Surrey studying International Hospitality Management. Although my subject is not related to animals, I have a lot of passion for them. Orangutans are one of my favourites and I want to do something to help save and preserve this incredible endangered species.
Aim
To support Orangutan Foundation International (OFI) by raising £250 to adopt three baby orangutan orphans in Borneo, Indonesia, in order to preserve this unique specie, of which the population is slowly starting to decrease due to deforestation.
About the Organisation
The headquarters of OFI is located in L.A., California, with its rehabilitation centre based in Borneo, Indonesia. The mission of the organisation is to support the conservation, protection, and understanding of orangutans and their rain forest habitat while caring for ex-captive orangutan orphans as they make their way back to the forest.
Click for more information about OFI.
About the Adoption Project
Adopting is a great way to help protect orangutans and support their way back into the forest where they belong. Obviously it is not literal adoption! Adoption fees contribute towards money to buy food, medicine and care the orangutan babies learning to live freely in the forest. The adoption period will last one year, and then adoption will be renewed.
Who will I be Adopting?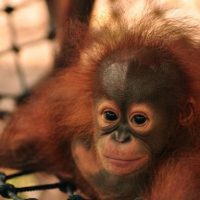 Name: Bayat
Gender: Girl
Description: Bayat joined OFI when she was only a few months old. She is still a baby today and relies heavily on the love and care of her caregivers. With her long, lush orange hair and quirky personality, she is  endearing. Although Bayat is a bit hesitant in forest school, she will climb  under the watchful eyes of her caregivers.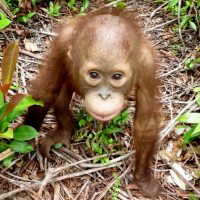 Name: George Baru
Gender: Boy   
Description: When George first arrived at the Care Center, he was still tiny. His days consisted of clinging tightly to caregivers and eating lots of bananas and drinking plenty of milk. He did not enjoy exploring the forest since this involved leaving the warm embrace of his caregiver. Now this beautiful boy is often seen exploring the forest quite independently, but is still a long way to go in his rehabilitation process.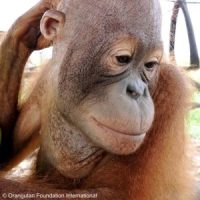 Name: Lear
Gender: Boy
Description: This strapping 3 year-old has an inordinate fascination with visitors and their belongings and shows no hesitation in attempting to steal hats, sandals, cameras or jewelry- anything that catches his eye. In ordinary circumstances, Lear is a vocal and gregarious boy. He is quite close to his four roommates and protests loudly if they are  not brought out to the jungle gym with him.
Read full story
---