We are looking to bring the ground-breaking Rainbow Jews Exhibition to Leicester for Pride 2014, and we need your help to make it possible.
 Launched in October 2012, Rainbow Jews is a pioneering project that records and showcases Jewish lesbian, gay, bisexual and transgender (LGBT) history from the 1950s to today. For the first time in British history, it captures the voices and experiences of Jewish LGBT people in the UK through oral histories and archive creation.
 Rainbow Jews is a volunteer-led initiative and was so far supported by the Lottery Heritage Fund and hosted by Liberal Judaism. However, sadly funding has run out and now we ask you, our friends and supporters, to help us get this wonderful exhibition around the country so that we can share these amazing stories and experiences, and raising awareness among communities outside Greater London.
 Our partner organisations include London Metropolitan Archives, LSE Hall Carpenter Archives, LGBT History Month/Schools Out, Keshet UK, Jewish Gay and Lesbian Group and Leicester LGBT Centre.
The exhibition was very successfully held at the London School of Economics earlier this year. You can read more about the launch here including Stephen Fry's support for the project and details about the films: http://jewishnews.co.uk/rainbow-jews-make-history-with-first-ever-jewish-lgbt-exhibition/ or www.rainbowjews.com
 Leicester has a small but vibrant Jewish community, and a number of local Jewish LGBT pioneers are featured in the Rainbow Jews story - hence there is a very special connection.
The LGBT Centre Leicester has kindly offered to host the exhibition and related events such as film screenings, Q&A and a smashing cake reception for Leicester Pride month this year.
So far we have raised about 30% of the total costs by generous donors of Leicester's Jewish community.
 This is your opportunity to support a truly unique exhibition. We are 100% sure, it will generate great interest and community spirit beyond the Leicester LGBT and Jewish communities, and hope you'll join us for this celebration.
 Thank you.
 Surat, Rainbow Jews founder, and the dedicated RJ volunteer team x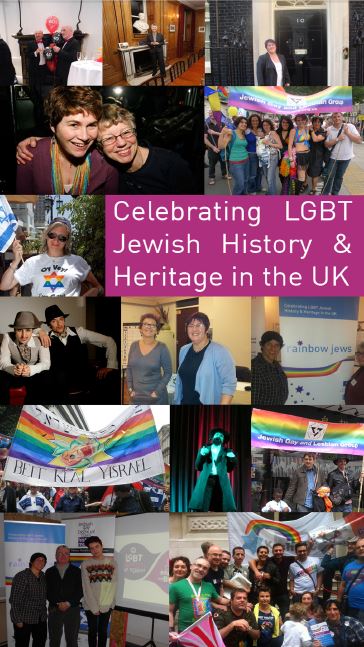 ---