About bees farm.

Our goal is to set up for a start 100 hives in area where bees can find a large variety of forage with easy access to water.
About Flow Hive.
"Flow™ is the most significant innovation in beekeeping since 1852." 
Flow is a revolutionary beehive invention, allowing you to harvest honey without opening the hive and with minimal disturbance to the bees. Of course, there is much more to beekeeping than harvesting honey.
It's the beekeeeper's dream…
Turn the tap and watch as pure, fresh, clean honey flows right out of the hive and into your jar. No mess, no fuss, no expensive processing equipment and without disturbing the bees.
We are excited to introduce our new invention that allows you to enjoy fresh honey straight out of your beehive without opening it. It's far less stress for the bees and much, much easier for the beekeeper.
"This really is a revolution. You can see into the hive, see when the honey is ready and take it away in such a gentle way".
HARVESTING YOUR HONEY USED TO BE A REAL LABOUR OF LOVE
First you had to protect yourself from stings

Fire up a smoker to sedate the bees

Crack the hive open

Lift heavy boxes

Pull out the frames, trying not to squash bees

Brush the bees off the combs, or use a leaf blower!

Transport the frames to a processing shed

Cut the wax capping off each frame with a heated knife or automatic uncapping machine

Put them in an extractor to spin out the honey

Filter out all the wax and dead bees

Clean up all the mess
And if that's not enough hard work, the frames have to go back to the hives again...
NOW YOU DON'T NEED TO DO ANY OF THAT 
Turn a tap, sit back, and watch the honey pour out. It's pure, unprocessed, untouched delicious honey directly from the hive.
Turn a tap and watch honey Flow directly out of the hive! This makes the honey harvesting so much easier and saves lots of effort and time.
Flow™ takes all the hard work out of harvesting
But don't worry, we haven't taken all the fun away. You still get to use your smoker and beekeeper suit and do all the normal things to keep your bees healthy. This includes inspecting the brood nest for disease, swarm prevention, mites, beetles, etc. You still need to pull your hive apart to do this and you will still get stung by your bees.
The brood box stays the same and needs the same care it always has.
If you are new to beekeeping, welcome to the amazing world of bees. It's a rewarding learning journey. Bees are such incredible little creatures and the most experienced of beekeepers realise there is always more to learn. 
You will need to seek help from experienced beekeepers to get you started and we do recommend you join your local beekeeping group. 
How does the Flow™ system work?
Download PDF 450kb or visit www.honeyflow.com for more details. 
I WANT A FLOW™ HIVE - WHAT ARE MY OPTIONS?
Flow™ Light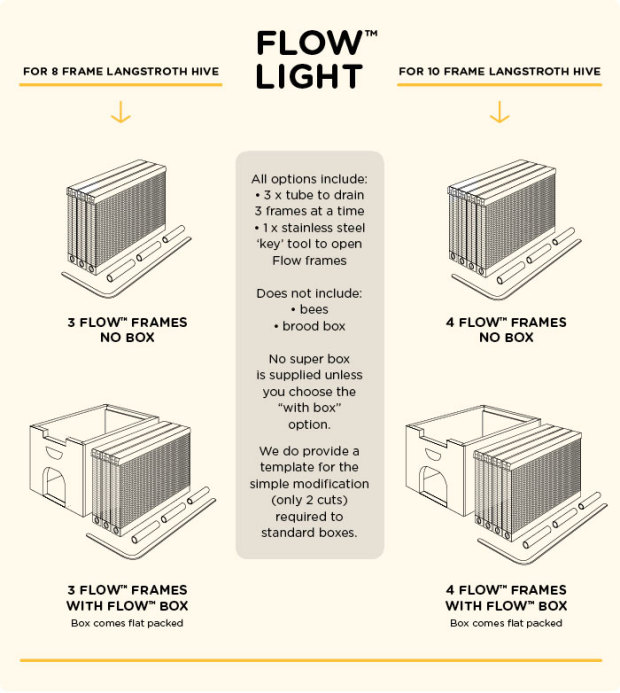 Help us

get

to finish

this project

and you will be

rewarded

 

for

life

with our honey

.

 

 

Our company:

Bee Farm Buzz Ltd [GB]

71-75 Shelton Street
Covent Garden
London
WC2H 9JQ